AI for Radiology, on the Proven Viz.ai Platform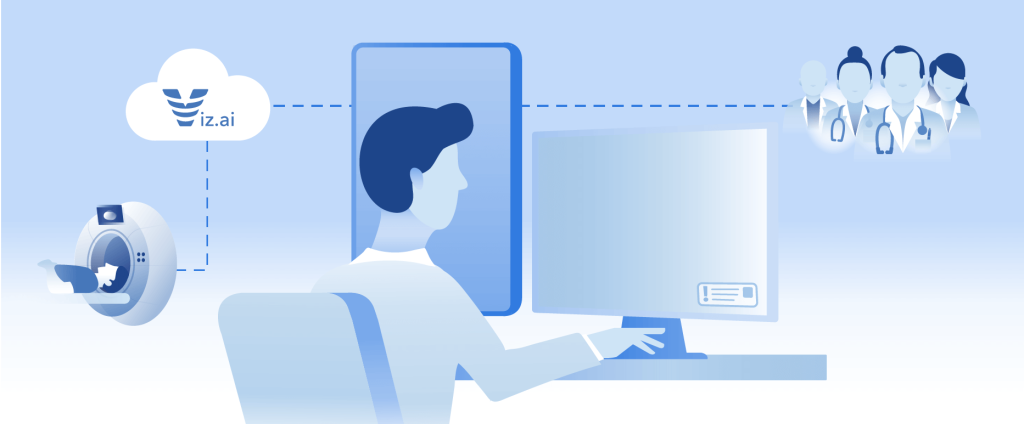 AI supported by a proven platform can help radiology teams streamline their workflow and drive better patient outcomes and organizational efficiency.
AI in the clinical workflow
Viz.ai is dedicated to increasing access to life saving treatments. Viz.ai has uniquely paired artificial intelligence with workflow solutions to drive 73% faster time to notification and decreased time to treatment decision by 24%1.  Viz.ai has also aided care teams to improve outcomes and reduce length of stay.  You can learn more about Viz's clinical validation here [https://www.viz.ai/clinical-validation]
At RSNA, our customers shared how Viz.ai has impacted the work they do by saving time, connecting multidisciplinary teams and ultimately improving patient outcomes. Here is one example that was presented by Dr. Eskioglu where Novant saved up to 20 minutes per hospital after using Viz.ai. A key driver of improved clinical outcomes for stroke patients.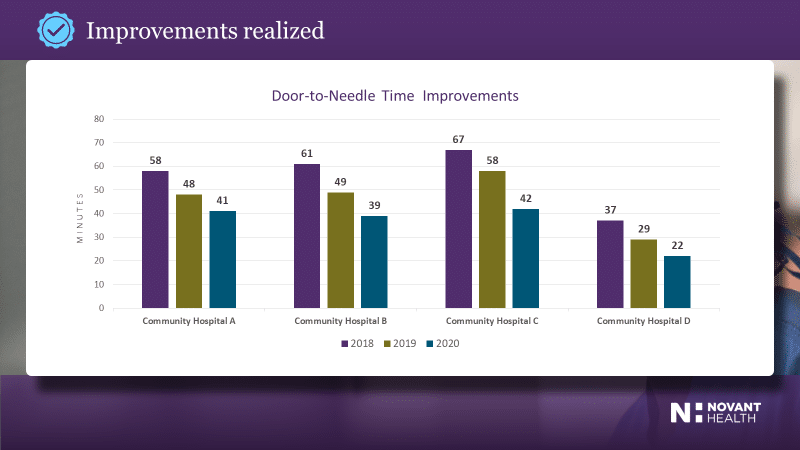 AI is a hot topic, but not all AI drives improved outcomes
The buzz for artificial intelligence (AI) remains strong. At RSNA 2021, there were over 90 vendors in the AI showcase and what felt like at least half of all exhibitors touting AI. There have been a lot of changes as artificial intelligence continues to grow and evolve. Many are forming opinions of what AI can or can't do for their organizations, so what exactly does the Viz.ai platform provide when it comes to AI? It's not just an AI-powered disease detection platform, it's AI-powered care coordination.
Many organizations are leveraging Viz.ai's AI powered care coordination to positively impact workflow and care
Radiologists are integral in detecting disease and initiating workflow with downstream teams. Viz.ai can help radiologists leverage AI to detect disease and connect with care team members more quickly and easily. Today Viz.ai's AI helps detect and coordinate care for ischemic and hemorrhagic stroke, aortic disease and pulmonary embolism with additional diseases in research and development. Dr. Keith Dreyer, chief data science officer and vice chairman of radiology at the Mass General Brigham health system shared his expectation that AI's role in radiology will continue to increase, "AI will become more mainstream in clinical care over the next few years, and it will become an essential part of the diagnostic care process. We also foresee AI predictions utilizing multimodal data sources to drive decisions for triage and disease management through the integration of AI within the electronic medical record."3 (read more here)
The differentiators of Viz.ai 
We know that AI is a helpful tool to have, but it requires more than an alert within the PACS to optimize patient care. To make a difference for patients, integration into the workflow is essential.  This is where Viz.ai shines.
With the Viz.ai platform, the care team – including specialists and radiologists – receive AI powered alerts quickly within their workflow.  Teams can align with access to imaging, patient information, and the ability to securely communicate across multidisciplinary teams and across hospital systems. The connectivity and access to key patient data is what drives improved efficiency with Viz.
The Viz.ai cloud is PACS independent, scalable and secure. PACS independence enables easy access to patient data from outside hospitals that are not connected to your health system. Within the Viz.ai cloud all image processing is automated, driving faster access to imaging often before it is available within PACS.
The validated platform provides a scalable solution that is easily leveraged as new AI powered workflows become available.
Best in class security with SOC2 type 2 certification enables secure, HIPAA compliant access to patient information to safely coordinate care for patients within the workflow.
Viz.ai is accessible to the clinical team wherever they work
At RSNA 2021, Viz.ai introduced a desktop access point that enables the clinical team to stay connected wherever they are working. With Viz.ai, you have access to one platform wherever you need it. As a radiologist you spend significant time in your worklist and PACS system, so we want to ensure that access to Viz.ai is streamlined and accessible in your workflow.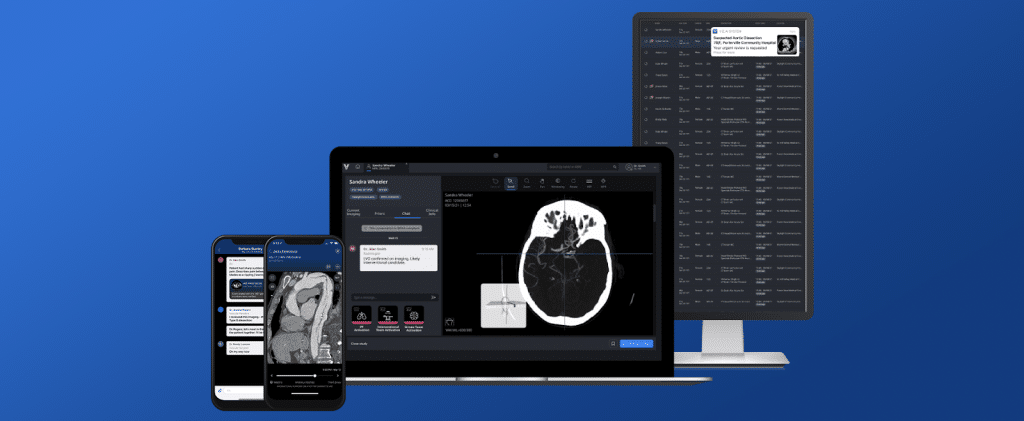 Our customers say it best
At RSNA 2021, two of our customers shared how Viz has changed the way they work and the impact on patient care.
Dr. Abrams is the Chief of Radiology and Medical Director of Neuroradiology & MRI Miami Neuroscience Institute at Baptist Hospital in Miami, FL. Dr Abrams shared how his team uses AI powered intelligent care coordination to improve stroke care & beyond. During his presentation he shared several patient cases with examples of how Viz has helped him care for patients effectively.
Dr. Eskioglu is EVP – Chief Medical & Scientific Officer at Novant Health. He spoke about his organization's experience using Viz.ai impacted care coordination and patient outcomes across Novant Health. Dr. Eskioglu shared that with Viz, Novant Health was able to significantly reduce their time to treat patients.
"When you look at our results, this has made a big improvement not only on our large vessel occlusions – but in that three year span, we've really reduced both in our community hospitals and our tertiary hospitals, the time to treat patients. On average, we were one of the best in the country, we were about 38 minutes, door to needle times and we've gone down to 28 minutes and we've done it in as little as 10 minutes."
Dr. Eskioglu is EVP – Chief Medical & Scientific Officer at Novant Health
Viz is real AI
As the PACSman said post RSNA 2021*,
""Real AI" was out there, although anyone who says it is a developed marketplace is sadly mistaken. Fewer than a dozen vendors have more than 20 paying customers using their algorithms, even though they might claim to have 200. Alliances are being formed between several AI vendors who have decided to partner up after realizing the movie dialogue cliché, "this town ain't big enough for two of us," or in the case of radiology AI, the 200+ of them."
Trusted by clinicians in more than 850 hospitals, Viz.ai has one of the most studied algorithms on the market.  With the only peer reviewed data describing the performance of the AI powered stroke triage in the real world from any manufacturer.  Our AI-powered stroke triage system performance showed a 96% sensitivity and 94% specificity across 2544 patients from 139 hospitals.2
Beyond best in class AI, the measurable impacts to patient care have been significant. So significant, that CMS approved Viz LVO for a New Technology Add-on Payment (NTAP). NTAP was established by CMS to support the adoption of cutting-edge technologies that have demonstrated substantial clinical improvement by helping to cover their cost for Medicare patients where the current MS-DRG payment would be inadequate. While other AI technology companies were evaluated, only Viz LVO was renewed for reimbursement through the demonstration of strong clinical outcomes. In order to achieve the NTAP, CMS ruled that Viz LVO demonstrated significant time savings, improved clinical outcomes, and increased access to care.
Physicians are using the platform and say it's transforming the way they work but the most exciting thing we're seeing is the difference it's making to patient care.
Chose Viz.ai to accelerate access to life-saving treatment. Visit our website to learn more or schedule a demo.
* Footnote – the PACSman has not reviewed or endorsed Viz.ai.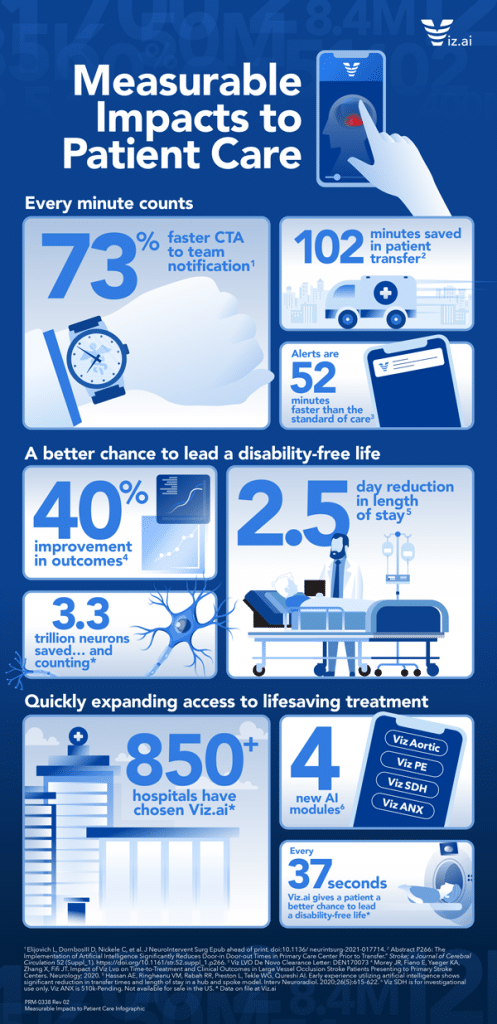 References:
Elijovich L, DornbosIII D, Nickele C, et al. J NeuroIntervent Surg Epub ahead of print. doi:10.1136/ neurintsurg-2021-017714
Shalitin et al. AI-powered stroke triage system performance in the wild. Journal of Experimental Stroke &Translational Medicine. 2020;12(3):03