Use the most reliable AI-powered triage software
Viz LVO auto-detects suspected large vessel occlusions within seconds of image acquisition. 90% of alerts are reviewed by the intended specialist within 5 minutes.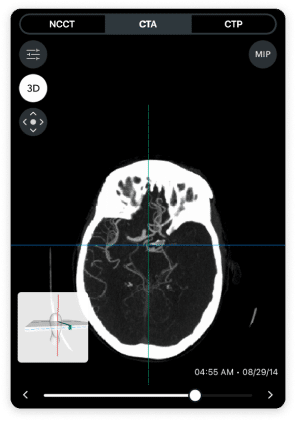 Choose Viz LVO when every second counts
Viz LVO improves stroke team coordination and patient outcomes simultaneously. Using Viz LVO has been shown to significantly decrease critical stroke care metrics, including door to transfer, door to puncture, and door to recanalization while improving Modified Rankin Scores (mRS).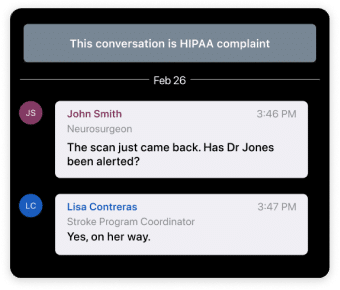 Coordinate care across your network
Viz LVO is installed in over 1,400 hospitals globally. The HIPAA-compliant platform enables teams to review imaging, discuss care plans, and make transfer go/no-go decisions across primary and comprehensive stroke centers.
Demonstrated Time Savings leads to Improved Outcomes
2.5
day reduction in hospital length of stay
73%
faster time-to-treatment decision
52 minutes
faster than standard care
Clinical study
VALIDATE: Validation of Artificial Intelligence to Limit Delays in Acute Stroke Treatment and Endovascular Therapy
Hospital use of an AI-based care coordination platform was associated with a significant decrease of 39.5 minutes in the time to NIR contact, increase in patients taken for intervention, and lower DTN times for thrombolytics.
Read the clinical study
What our customers are saying
Viz.ai makes imaging viewable right on my phone and allows me to not only confirm the occlusion, but simultaneously evaluate the rest of anatomy and scout any potential complications including carotid stenosis, vessel tortuously, and aortic arch type. I am planning the case and communicating that plan to my team well before the patient is on the table.

Viz alerts my team to all potential LVOs in our network and allows me to quickly view them on my phone. This is the new standard for stroke care.

Viz.ai is the singular most effective change that can improve quality of life for a neurointerventionalist with a busy stroke service.
Brian Snelling, MD

Director of Cerebrovascular & Endovascular Neurosurgery and the Medical Director of the Marilyn & Stanley Barry Center for Cerebrovascular Disease and Stroke Marcus Neuroscience Institute Boca Raton Regional Hospital

Don Frei, MD

Neuro-Interventional Surgeon Radiology Imaging Associates

David Altschul, MD

Director of Neurovascular Surgery Co-Director Montefiore Comprehensive Stroke Center Assistant Professor Montefiore