Viz.ai Neurovascular Impact Continues to Expand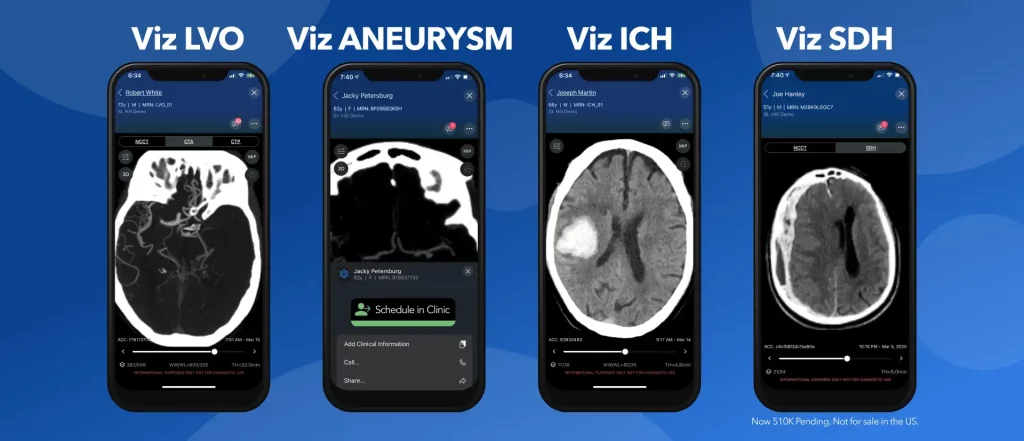 Our latest blog focuses on the expansion of the neurovascular platforms with articles on the latest data from ISC 2022, expansion of the platform with Viz ANEURYSM and Viz SDH (510k pending) and new partnerships.
AI in the stroke workflow
Viz.ai continues to make a significant impact on stroke through the intelligent care platform in combination with Viz LVO, Viz CTP, and Viz ICH modules.  The combination of Al powered alerts, a high fidelity mobile image viewer with pre-PACS timing and a HIPAA compliant communication tool, Viz LVO has powered the stroke workflow reducing Door to Treatment from 202 minutes to under 60, as supported by multiple publications.1-7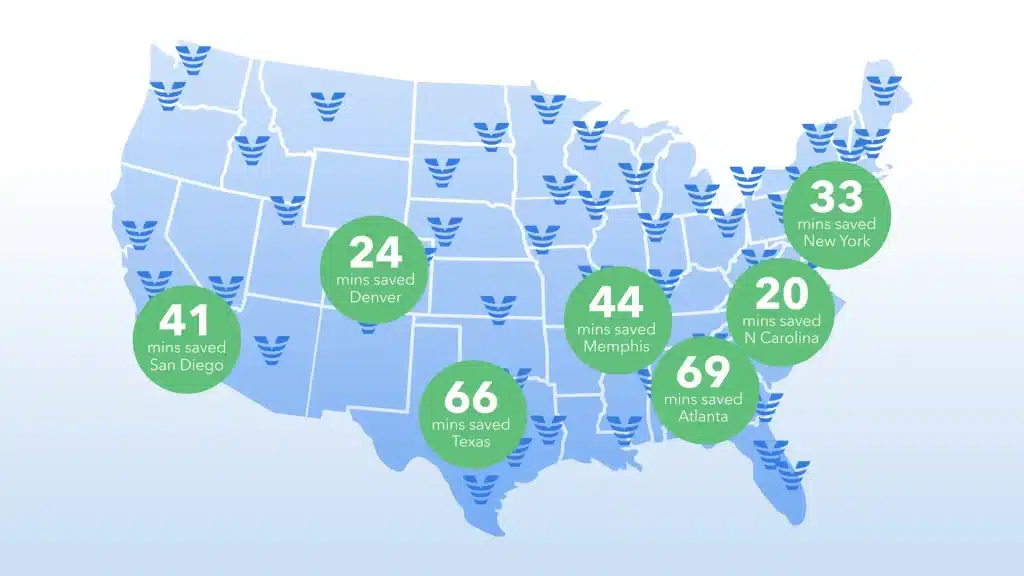 New data further validates the impact of Viz.ai
Four posters and one oral abstract presented at ISC22 focused on results with Viz.  Highlights include new data from UCSD in the VISIION study7, where DTG times improved by 32% (41 min) in direct patients with LVO. The University of Ohio (Wexner) presented a poster further supporting the accuracy of ICH where 82 of 83 patients were detected.8 An oral abstract by the same institution further supported the sensitivity and specificity of Viz LVO in the real world.9
Two posters further validated the accuracy of Viz CTP.  A poster by Atrium Health compared the Hypointensity Ratio (HIR) of Viz to Rapid and found the agreement in "Moderate to very good range" by Intraclass Correlation Coefficient (ICC) standards.10  Another poster abstract by University of Cincinnati highlighted "no difference in EVT eligibility using Viz or Rapid when both DEFUSE3/DAWN criteria were considered."11
For more detail on the VISIION study, view the poster presentation by Morgan E Figurelle, DO, lead author of the poster abstract, in the video below or link to the poster abstract.

A well-attended Learning Studio on The Impact of AI on Stroke Care was hosted by Dr. Ameer Hassan from Valley Baptist in south Texas where he presented his Viz experience in a 13 hospital network. Dr. Hassan shares his published data in DIDO, DTG, patient outcomes and access to care.5,12,13

Neurovascular News and Announcements
Aneurysm
Viz.ai Receives FDA 510(k) Clearance for Viz ANEURYSM
We're excited to announce our latest clearance, Viz ANEURYSM. A first-of-its-kind population health tool that uses AI to automatically detect suspected cerebral aneurysms and standardize workflow across the health system. The combination of detection with an ability to schedule patients for neurovascular specialist follow-up is an important advancement for aneurysm patients to help improve outcomes.
Subdural Hemorrhage
We are proud to announce that Viz SDH has also been submitted for 510(k) approval
Viz SDH was initially developed as a tool within Viz RECRUIT to assist with trials for SDH. Viz SDH is offered as an investigational device with the Medtronic EMBOLISE trial for the endovascular treatment of subdural hematomas. Investigational use only. Not for sale in the US.

The SDH algorithm has been submitted to FDA and is now 510(k) pending. Once approved, the software can be used outside of a trial. 510(k) Pending. Not for sale in the United States.

Partnerships
Expanding access to Viz.ai through TeleSpecialists
Partner hospitals of TeleSpecialists and Viz.ai will be able to integrate the Viz.ai platform into the TeleSpecialists telecare platform for a more seamless and integrated workflow experience. View the press release to learn more.
Best Practices for Stroke Coordinators
If you're a stroke coordinator, you don't want to miss the best practice discussion moderated by our very own Daniel D'Amour, MBA, RN, CEN, SCRN. In 10 minutes, Daniel shares nationwide examples of changes to workflow that have positively impacted time to treatment. He's joined by Erin Cekovich, BSN, SCRN, ASC and Cesar Velasco, BSN, RN, SCRN, ASC from PennState Health.

References:
Whaley M, et al. Use of Artificial Intelligence Shows Significant Reduction in Door to Skin Puncture Times at a Stroke Center. Sky Ridge Regional Medical Center. 2020. [Preliminary Analysis]
Strauss, et al. Reduction of Door-In Door-Out Times with Viz LVO at Piedmont Healthcare. 2020. [Preliminary Analysis]
Eskioglu, et al. Reduction of Door to Needle Times with Viz LVO at Novant Health. 2020. [Preliminary Analysis]
Hassan, A et al. Early Experience Utilizing Artificial Intelligence Shows Significant Reduction in Transfer Times and Length of Stay in a Hub and Spoke Model (n. 43). Interv Neuroradiol. 2020 Oct; 26(5): 615–622., Published online 2020 Aug 26. doi: 10.1177/1591019920953055
Fifi, et al. Impact of Viz LVO on Time-to-Treatment and Clinical Outcomes in Large Vessel Occlusion Stroke Patients Presenting to Primary Stroke Centers. 2020.
Figurelle, et al ISC 2022 Poster P84: (VISIION): Viz.ai Implementation Of Stroke Augmented Intelligence And Communications Platform To Improve Indicators And Outcomes For A Comprehensive Stroke CISC 
Aminian et al, 2022 Poster P105: Real World Experience With Viz.AI Automated Hemorrhage Detection At A Comprehensive Stroke Center,enter And Network
Vitellas et al, Oral Abstract ISC 2022: Real World Experience With Viz.AI Automated Large Vessel Occlusion Detection
Asimos et al, ISC 2022 Poster TP104 – Agreement Of Hypoperfusion Intensity Ratio On CTP Derived By Rapid AI And Viz AI
Stanton et al, ISC 2022 Poster Abstract WP107: Differences In Automated Perfusion Softwares: Do They Matter Clinically?
Hassan (2021). Abstract P266: The implementation of artificial intelligence significantly reduces door-in door-out times in primary care center prior to transfer. Stroke; a Journal of Cerebral Circulation, 52(Suppl_1). doi:10.1161/str.52.suppl_1.p266