Top 5 Innovations in Stroke Care

The Viz.ai Intelligent Care Coordination platform connects care teams earlier, coordinating care and improving outcomes for patients.
The Viz.ai Intelligent Care Coordination platform connects care teams earlier, coordinating care and improving outcomes for patients. Viz alerts multidisciplinary care teams earlier in the workflow, coordinating care by connecting frontline health care professionals (HCPs) to specialists facilitating efficient communication and coordinating care.
"The current stroke work workflow can take 45 minutes, sometimes beyond an hour. With Viz, this whole process has been cut down to about six minutes." Dr. Demetrius Lopes
Director of Cerebrovascular Surgery and the Comprehensive Stroke Program Surgical Director at Advocate Health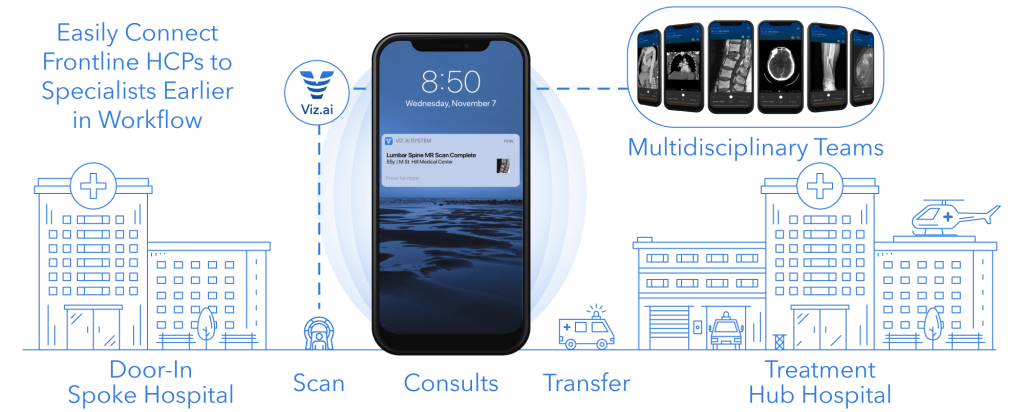 Here are 5 innovations that Viz.ai brings to stroke care
1. Intelligent Care Coordination
Intelligent Care Coordination (ICC), powered by AI replaces outdated, conventional care practices with a single platform, enabling care teams to save time, reduce leakage, and improve the lives of patients.
How does ICC Improve Patient Outcomes?
By connecting care teams earlier in the workflow enables faster treatment decisions, significantly improving patient outcomes. When time is brain, every second counts.
How does ICC Increase Provider Productivity?
Time saved increases provider productivity. With more time, providers can treat additional patients or recharge effectively when off-call reducing physician burn out.
How does ICC Reduce Length of Stay?
Reducing length-of-stay minimizes resources required to treat a patient. Less cost per patient and more available bed space increases a center's capacity to treat more patients with the resources you already have.
2. Powered Workflows Alerts
Viz LVO
Viz LVO Uses AI to automatically detect and triage suspected large vessel occlusions across hub and spoke networks.
AI Powered Suspected LVO Detection
Real time specialist notifications
Fast triage across hub and spoke or within thrombectomy capable institutions
Viz CTP
Viz CTP uses advanced imaging technology to automatically analyze CT perfusion images of the brain, produce parametric color maps, and calculate CT perfusion parameters. Additionally, Viz CTP uses AI to automatically correct for motion artifact, resulting in 50% fewer motion artifact errors than other platforms.1
Real-Time CT Perfusion Alerts
Automated Perfusion Color Maps
Customizable Thresholds
Workflow begins before imaging. A stroke patient journey often starts with the "stroke pager" or what we call Viz PAGER. By getting Viz.ai earlier in the workflow the clinical team has access to early patient information and immediate ability to chat and you can start synchronizing care before the patient enters the hospital.
3. Full Stack Communications Platform
Viz.ai enables care coordination from pre-hospital to post-acute care settings. With the Viz.ai app, alerts are sent from EMS allowing stroke teams to communicate and begin coordinating care before the patient enters the hospital. Cryptogenic stroke patients can be referred directly to cardiology for post-acute care follow up.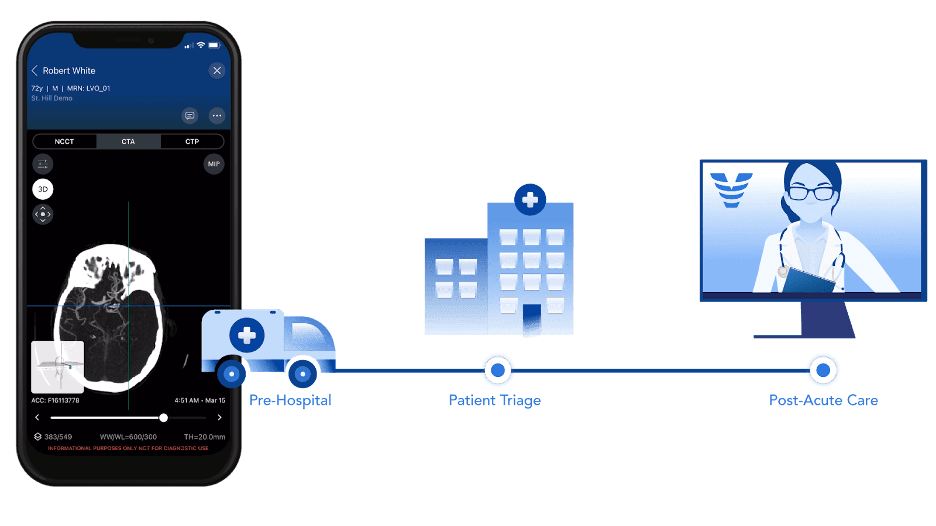 Our robust communications platform provides the following key features to coordinate care more efficiently.
Dynamic 3D Mobile Image Viewing: 3D manipulation with customizable windowing and leveling
Post-Acute Stroke Care Follow-up: Specialist consultation or referral for cryptogenic strokes requiring cardiac monitoring
Physician to Patient Communication: Asynchronous virtual patient encounters and video communication. Create video recordings reviewing patient imaging and share directly to patients to drive patient satisfaction and reduce leakage in your system
Use Beyond Neuro: The Viz.ai platform is being leveraged for use beyond neurovascular: Spine, Trauma, PE, Orthopedics, Cardiology, Vascular, COVID-19
4. Best-In-Class Security in The Cloud
By using the cloud, Viz.ai provides our users with on-the-go access to patient data, automatic changes and updates, 24/7 monitoring and support, and a robust and redundant infrastructure that ensures that your patient data can always be securely housed and accessed.
Keeping our customers' patient data secure is our most important focus, which is why we've built our technology and services on a reliable and secure architecture. All of our data lives behind a secure firewall and is encrypted at every point in transit.
In addition to our secure firewalls, Viz.ai uses Amazon and other best in class tools for monitoring, data is protected by best-in-class security measures and protocol, and data is encrypted in transit and at rest using the latest industry-standard cryptographic algorithms, protocols, and key strengths.
5. Customer Success
Our team of experienced stroke workflow specialists implement Viz.ai and are with you every step of the way. Your dedicated Customer Success Manager ensures you maximize impact of Viz.ai technology in your center and provide 24/7 dedicated support for your care team.
Through your partnership with Viz.ai, you will have access to Stroke Workflow Mapping, Trainings, and Best Practice Insights. Your Customer Success Manager will guide you through these resources and provide you with both support and product expertise to set you up for success.
Our Customer Success Managers are here to support your team in defining your specific system goals, tracking metrics, and leveraging key resources to ensure your team is achieving your goals and continuously improving patient care.