Takeaways from the 2023 Heart Rhythm Conference
The Viz team recently attended the 2023 Heart Rhythm Conference (HRS), which brought together leading Cardiac Electrophysiology experts (EPs) to share their insights and advancements in the diagnosis, treatment, and management of heart rhythm disorders.
There were ~8,000 attendees with over 300 sessions led by 1,500+ expert faculty and presenters from around the world. HRS kicked off with New Orleans' very own grammy-award winning singer, Irma Thomas, serenading the attendees with "I done got over". Ms. Thomas corralled the audience of cardiologists into performing the basics of a New Orleans Second Line dance. Ms. Thomas suffered from symptomatic atrial fibrillation and shared her first-hand experience of having an ablation. Her experience serves as a reminder as to why this field is critically important.
Key takeaways from the Viz team:
The potential of AI is at the forefront of EPs' minds
Welcomed start: remote monitoring guidelines for staffing to address burnout
Centers for Medicare & Medicaid Services (CMS) cuts to physician payment impact EP specialty's future
Adoption of AI from wearable technology to clinical applications:
Heart Rhythm offered several sessions on artificial intelligence (AI). Attendees learned about:
Machine learning's ability to detect arrhythmias in both wearable and diagnostic-grade devices. EPs focused on the ability of AI to reduce false negatives/non-actionable alerts from cardiac implantable electrical devices (CIED).
AI's utility in personalized risk prediction models. A study demonstrated how a novel AI model correctly identified patients at near-term risk of sustained ventricular tachycardia (VT) who could potentially benefit from preemptive interventions to prevent sudden cardiac death.
Real world use of AI in guiding treatment strategies with the recently FDA-cleared AF Xplorer from Volta Medical. AI identifies abnormal electrograms (EGMs) for cardiac electrophysiologists to optimize their ablation strategy during the procedure.
Overall, EPs are hopeful that AI can create efficiencies and alleviate their burnout. However, they also raise concerns about the implementation of AI in healthcare—the importance of ethical AI and the need for robust data privacy measures to protect patients.
Overworked and understaffed: the downside of remote monitoring as standard of care
A central concern voiced during the conference was the unrealistic expectation of the implementation of remote monitoring with the increase in wearables or implanted devices. "We only get compensated for 1 viewing per month per patient but that is not how it works in the practice setting. It's a rapidly growing problem with no adequate solutions" —an anonymous attendee. The Heart Rhythm Society recognizes that keeping up with the deluge of remote monitoring transmissions poses challenges to the clinic staff. With the growing number of patients and the continued shortage of cardiologists and clinic staff, this burden of over-notification will continue to grow exponentially. The society released an updated consensus statement offering guidance on the management of remote device clinics. The update provides clear guidance on staffing. Three full time employees to every 1,000 patients being remotely monitored. Our team got the sense from clinicians that while this guideline is not a complete solution, this is a step in the right direction.
Going up against Centers for Medicare & Medicaid Services (CMS) final rule
The Heart Rhythm Society continues to advocate on behalf of physicians regarding the CMS' final rule on ablation payments announced at the end of 2022. The Society plans on expanding its health policy education curriculum to help its members better understand the impacts of these recent cuts, including discussion guides outlining the payment valuation process and its role in physicians' daily practice.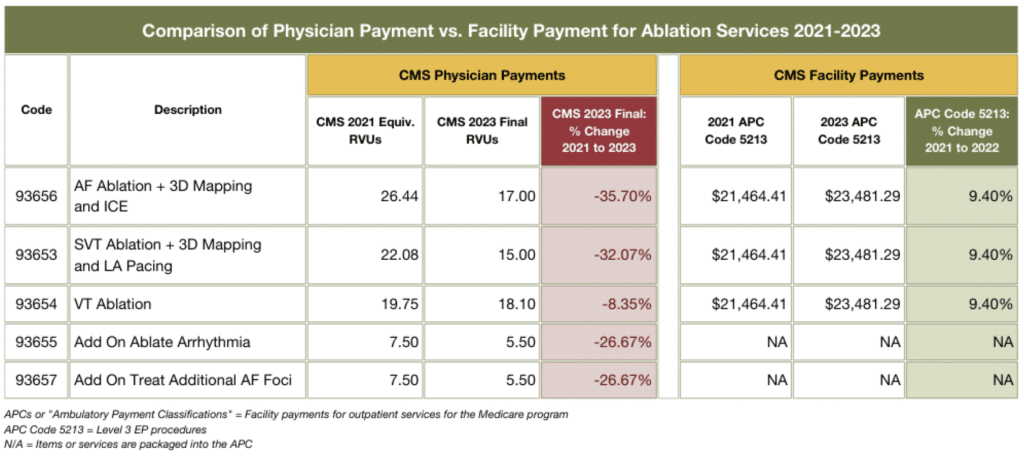 This chart shows that, from 2021 to 2023, physician payment rates for ablation procedures were cut by 25-35%, while facility payments continue to increase. With the projected 50% increase in ablation procedures, these cuts leave EPs vulnerable to burnout. Many voiced CMS' inability to see the long-term picture has accelerated physician burnout and is leading to increasing numbers of older, experienced EPs retiring in a field that is already suffering from the largest shortage of physicians. The society worries that the desire in choosing the EP specialty will decline among the future generation of doctors. Experts in EP say this will undoubtedly lead to patients, especially Medicare patients, not having timely access to care in the future.
EPs are keeping an eye out for technological solutions that can help cut costs. These solutions include
Technology that enables a "Heart Team" approach to aid earlier identification and prevention of some cardiac issues and would make patient handoffs much easier and seamless in the care continuum.
More seamless IT integration, like remote patient monitors and implantable devices.
Use of AI to help watch patients or to speed workflow, offering a second set of eyes for the doctors, smarter natural language processing, or smart reporting software that can pull important data points from procedure logs to complete reports in near real-time.
"If you look at the expo floor here at HRS, there are a ton of new innovations, and that is how we are going to do it." shared in a recent article in Cardiovascular Business by Samuel Jones, MD, MPH, an EP at Chattanooga Heart Institute and past chair of the Health Affairs and Advocacy Committee for the American College of Cardiology (ACC).
Scientific Highlights
Innovations covered during HRS scientific sessions aim to improve success rates, reduce procedure times, enhance patient comfort, improve device longevity, and increase diagnostic capabilities. Studies of note included:
Abbott's Aveir DR i2i Study examining the efficacy and safety of dual chamber pacing
EBR's SOLVE-CRT study demonstrating that cardiac resynchronization therapy can be delivered by leadless pacemaker
Conduction pacing outperformed coronary sinus pacing in improving left ventricular ejection fraction
Pulse field ablation as a safer alternative to current ablation techniques
Conclusion:
For Viz, The 2023 Heart Rhythm Conference provided invaluable insights on the clinical utility of AI in cardiology. HRS attendees were excited to learn more about Viz Cardio Suite to make their practice more efficient. Remote monitoring is the standard-of-care for many of their patients and could benefit from AI pre-review of alerts to prevent alert bombardment. Cardiac Electrophysiology leaders are excited for this next step and want to have a say in the development process. This is evident from the formation of the HRS' HRX meeting. The HRX meeting offers the opportunity for EPs to collaborate with the digital health industry. The 2nd annual meeting will occur in September and we hope to see you there!