Pivoting During a Pandemic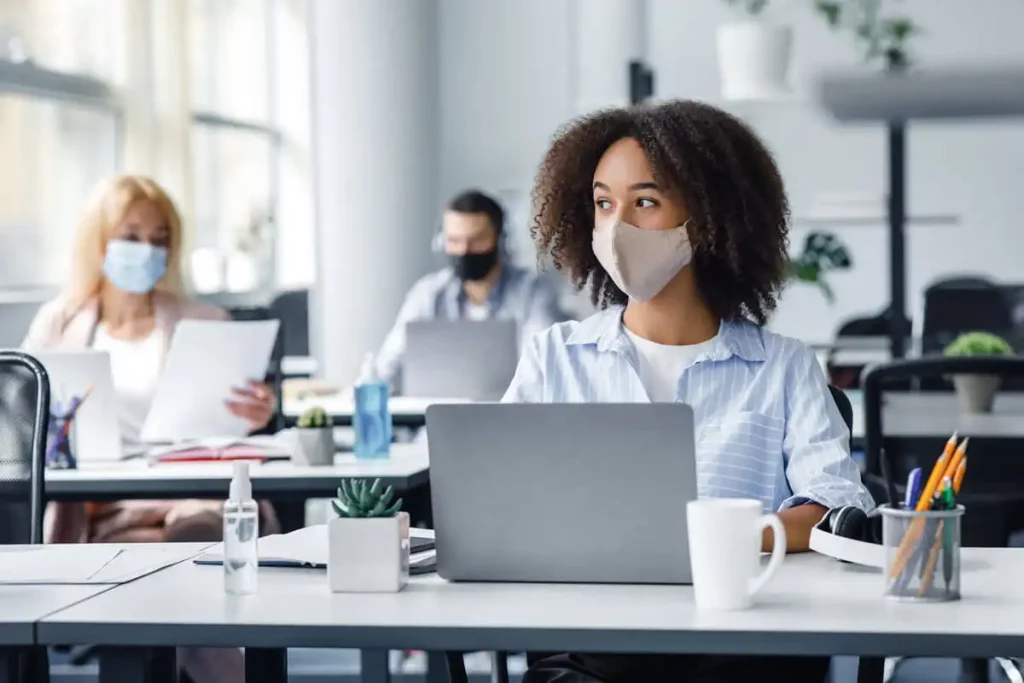 Physicians, nurses, and allied health staff have demonstrated tremendous heroism throughout the pandemic.
Measuring our patient impact during COVID-19
Over a year ago, the world was turned upside down by the emergence of SARS-CoV-2. Here at Viz.ai, our national Sales, Customer Success, and Implementation colleagues were the first to report gradual changes in the daily patterns they were used to experiencing in the hospital. Sites across the country were beginning to cancel elective procedures. Clinics began experimenting with telemedicine. Administrators and clinicians worked hand-in-hand to open up capacity across health systems. In-person meetings became virtual, live training sessions were coordinated over Zoom, and remote updates and implementation continued over the cloud.
In order to ensure the safety of all employees, Viz.ai's leadership team closed the doors to our offices in San Francisco and Tel Aviv. We asked employees to work from home for what we thought would be a short period of time. Despite these challenges, we drew inspiration from our customers as we heard about the unique challenges facing care teams across the country.
Three COVID-19 challenges facing stroke care:
Prioritizing the Safety of Patients and Care Teams
Maintaining the Quality of Stroke Care
Protecting Hospital Resources
Prioritizing the safety of patients and care teams
Physicians, nurses, and allied health staff have demonstrated tremendous heroism throughout the pandemic. We continually met with our customers virtually and learned about the struggles of patient care through their first-hand accounts of their daily experiences. These meetings motivated Viz.ai to develop a tool to assist in the daily delivery of care.
In April 2020, Viz.ai launched Viz COVID-19 in the US free of charge. This application enabled physicians to identify and triage COVID-19 patients using imaging on their phone. The goal of the software is to allow for a safer hospital workplace during the pandemic by giving care teams the ability to tag patients with suspected COVID-19 and alert the care teams of their final diagnosis. The solution gives care teams the ability to discuss and coordinate care remotely across distributed healthcare networks. We continue to provide Viz COVID-19 to hospitals without charge or limitations on the number of providers and scanners that can be connected to the platform.
In addition to offering this product free of charge, Viz.ai pivoted the way we implemented our existing artificial intelligence solutions. Throughout the pandemic, we established remote onboarding and team training sessions during deployment. Our cloud-based software allowed us to continue with the remote installation and update of our Viz artificial intelligence solutions across hub and spoke systems. Maintaining regular updates via the cloud was of paramount importance to Viz.ai and our customers, and we're happy to report that we had minimal downtime throughout the pandemic.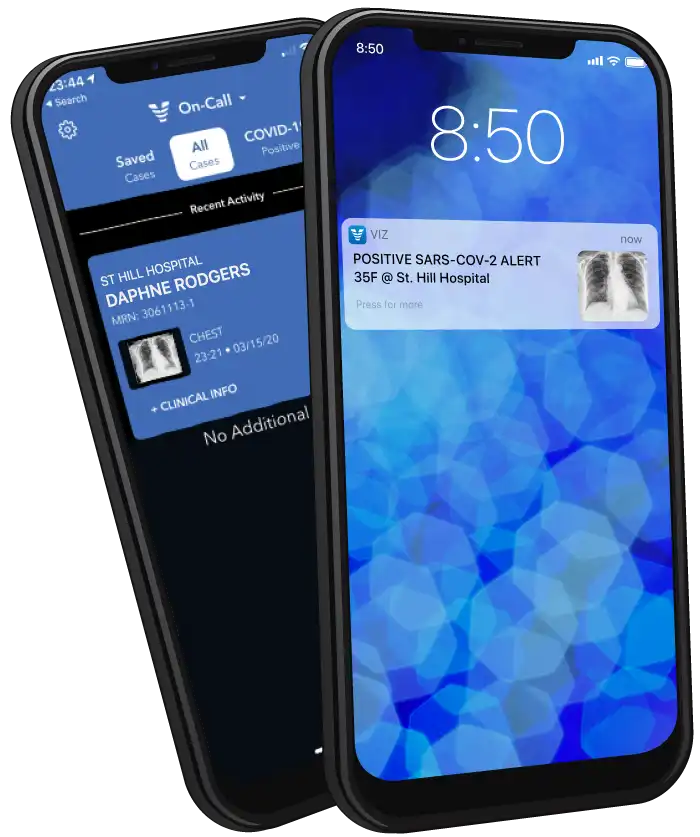 Maintaining the quality of stroke care
During the height of COVID-19 in the US, neurology specialists were assisting with the influx of patients across various hospital departments. Patients were presenting to overburdened emergency rooms with atypical strokes. Radiologists were tasked with identifying COVID-19 positivity on top of an ever-increasing workload of various pathologies.
Our team rallied around a solution: Viz.ai doubled-down on our intelligent care coordination expansion efforts more than ever before. Viz LVO and Viz ICH use artificial intelligence to identify suspected large-vessel occlusions and intracranial hemorrhages. Once the A.I. automatically completes an analysis of the CT scan, an alert is sent to the on-call care team within minutes to review the images for the suspected pathology. This alert includes high-fidelity 3D imaging, patient information. The location of the patient, COVID-19 positivity, and clinical presentation are all simultaneously transferred to the mobile phones of the on-call care teams via a secure connection.
Viz LVO protected spokes by alerting teams of mechanical thrombectomy-eligible patients and enabling teams to safely coordinate transfers to hubs. By speeding up the rate by which patients got to the table, hospitals saw an improvement in their outcomes and a decrease in their patients' overall lengths of stay. This allowed for more beds to become available for the influx of patients who required urgent treatment. Stories have poured in from across the country on how care teams were using Viz.ai to discuss the outcomes of their transfer patients and coordinate follow-up care remotely.
Protecting hospital resources
Hospitals were bursting at the seams with patients who were presenting younger and sicker, and hospital staff were working around the clock at the height of the pandemic with little PPE. In order to prevent the spread of COVID-19 across hospitals and wards, it has become crucial to identify which patients qualified for transfer, and which did not. Viz LVO is able to identify large-vessel occlusions using high-fidelity machine learning. When a hospital or group of hospitals receives an alert from Viz, the care team can begin coordinating care across the network. This is especially important as hospitals look to reduce futile transfers from spokes to hubs for stroke patients who are not eligible for advanced care. Viz LVO was able to assist in the minimization of futile transfers by keeping them at centers with fewer COVID-19 cases, thereby streamlining resource allocation and maximizing bed availability across the system.
The Viz LVO data demonstrating reductions in door-to-arterial puncture times and improvement in patient outcomes caught the attention of the Centers for Medicare and Medicaid (CMS). In October of 2020, Viz LVO was granted a New Technology Add on Payment (NTAP) of up to $1,040 per use in patients with suspected strokes. This additional payment is intended to help drive the adoption of specific, new, and clinically validated technology by helping cover its cost of adoption with certain patients. Viz.ai's reimbursement specialists worked with hospital billing, revenue integrity, and coding teams to provide best-practice guidance for the proper installation of the NTAP.
The Viz.ai intelligent care coordination platform has empowered hospitals to reduce the number of missed strokes or delayed stroke treatment – both of which result in long and costly lengths of stay in the neurology intensive care unit. Viz LVO uses A.I.-powered triage to help identify, triage, and treat even more stroke patients who are eligible for life-saving mechanical thrombectomy. We do this while reducing false positive cases, thereby giving our treating physicians an increased patient volume with decreased alert fatigue. This direct impact has been seen nationwide with clinical data illustrating a 16% increase in mechanical thrombectomies with a 2.5 decrease in patient length of stay.
The Covid-19 pandemic has disrupted lives the world over for more than a year. While global vaccination rates accelerate and countries coordinate across borders to share resources, there is no doubt that this pandemic changed the fabric of our company. COVID-19 tested our ability to pivot and adapt to rapidly changing needs of our customers, and we're only just getting started.