Bringing Cloud-Powered Agility to Healthcare

The Viz Platform scales beyond a single hospital, and it connects a network of providers between referring and treating centers across service lines to save time and ultimately improve patient outcomes.
Bringing Cloud-Powered Agility to Healthcare
Clinical workflows are complex. Technologies used to support them can be complicated to navigate and difficult to implement and maintain. Most are disconnected, making healthcare delivery harder instead of easier. Patients and providers both feel the pain when time is wasted.
Members of the clinical team waste time and energy tracking down key patient information and imaging, while struggling to communicate to align to a treatment plan. This time lost is frustrating not only to providers as they struggle to increase efficiency and prevent burnout but also to patients as their outcomes may suffer. This challenge continues to impact how care teams treat patients because many of the solutions like the EMR were not designed with ease of use and workflow in mind.
At Viz.ai we know that workflow efficiency not only saves time but also saves lives. We leverage AI and leading cloud native technology to design a solution focused on identifying disease and improving how healthcare is delivered. Viz.ai enables providers to quickly and easily access patient-centric information and communicate with the care team. The platform has been designed by engineers who've worked on many of the apps you use every day to improve how you bank, how you travel, and simply how you make your life easier and more efficient.
With Viz, providers can:
Efficiently triage patients leveraging AI for multiple diseases
Access and manipulate high fidelity imaging from any modality on any device
View contextual patient information to make fast care decisions
Communicate with other providers to coordinate care intelligently
Refer patients to clinic in non-acute cases
Activate surgical teams when acute pathology is present
The Viz Platform scales beyond a single hospital, and it connects a network of providers between referring and treating centers across service lines to save time and ultimately improve patient outcomes.
The Viz Platform enables care teams to more easily coordinate care
Viz.ai is a proven, cloud native solution that assists hospitals and health systems to connect and share information. We've built the Viz Platform from the ground up with the ability to scale with our customers and meet the complexities of the ever changing healthcare system. The Platform is built on a strong foundation that lives in the cloud, leveraging best practices and leading technology from other innovative industries, to help bring the future of AI Care Coordination. Our goal is to deliver our customers with a platform that is scalable, secure and easy to use within the workflow. Organizations using Viz have seen their care teams make faster treatment decisions, enabled providers to drive better outcomes and increase productivity, reduced resources and enhanced hospital economics.
Accelerate treatment decisions1

Better clinical outcomes
Mean 5-Day NIHSS and Discharge mRS; median 90-Day mRS (p<0.05)2

Reduce length of stay
55% Mean Reduction in Neuro-ICU LOS, 25% in Hospital LOS3

Increase access to care
16% Increase in Patients the Qualify for Thrombectomy4
For Radiology
Viz sits within the radiology workflow and uses AI to detect pathology on imaging.   Not only are cases prioritized but the radiologist is connected to the downstream clinical care teams with an integrated communication platform. This means that as soon as an AI finding is confirmed by the radiologist it can be communicated to the care team reducing multiple inefficient phone calls to relay the message. The end result drives efficiency, increasing throughput and reducing turnaround time.
For Clinical Teams
Viz saves clinical teams time by reducing friction in the workflow. AI powered alerts notify the care team. Each alert is paired with access to high fidelity imaging of any imaging modality, patient information, HIPAA compliant communication, and a timeline showing where a patient is along the treatment journey and who from the clinical team has evaluated the patient in Viz.  This platform has enabled multidisciplinary care teams to make treatment decisions 73% faster than without Viz1.
The Viz Platform is available on mobile, web and within the radiology workflow.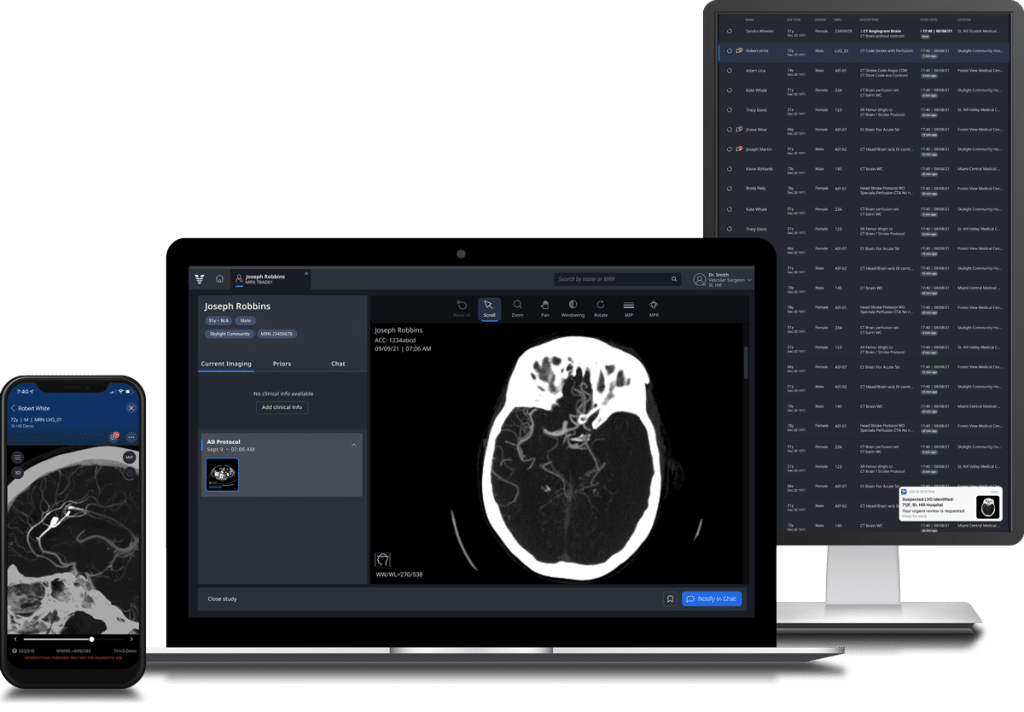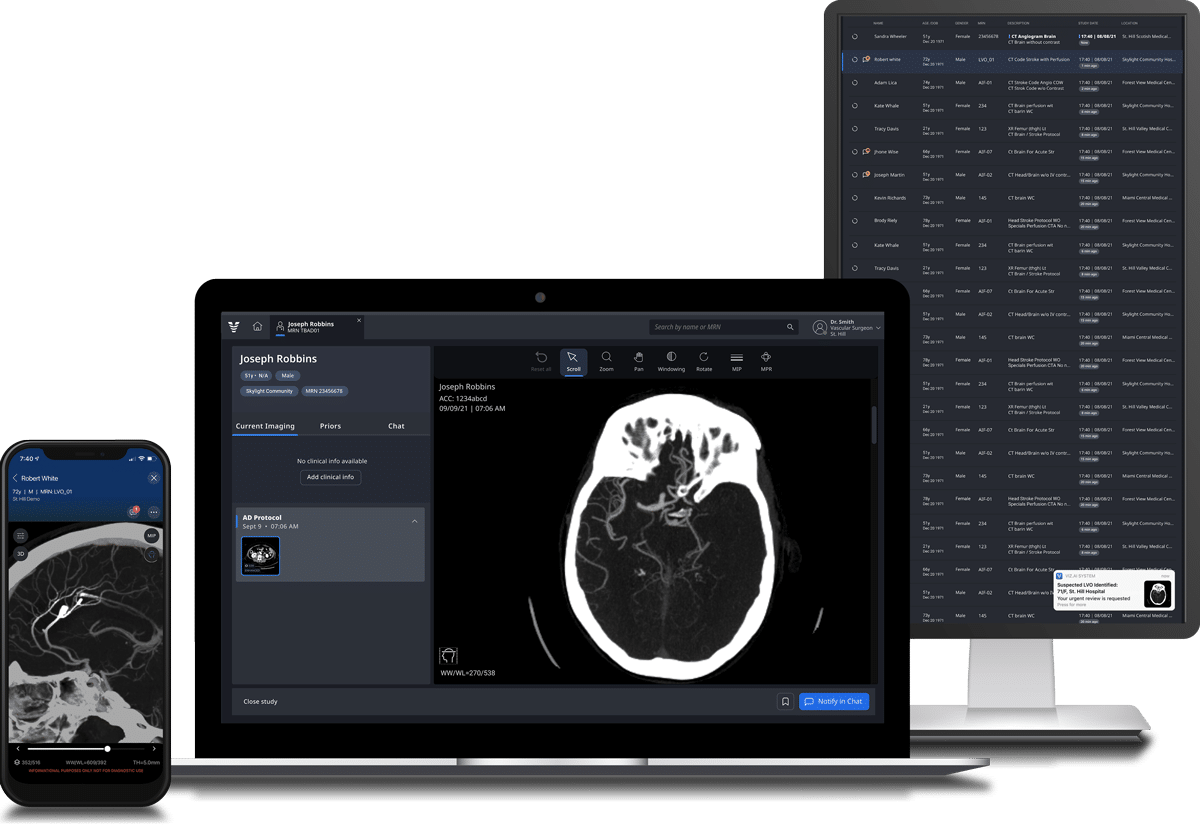 Viz is Scalable
Viz.ai is able to connect health systems in a powerful and unique way. With users across the care team leveraging Viz, we help clinical teams work smarter and coordinate care intelligently. Viz can connect to any scanner using the DICOM standard. Regardless of the PACS systems that might be used across a network, Viz provides the entire care team with a consistent real time view.  Where transfer relationships exist and clinicians are in different locations on disparate systems, they can easily share imaging, patient information and communicate securely to expedite care.
Our product updates are rolled out across the whole platform at once, which means it's available for all customers at the same time. Our customers will always have the latest and greatest functionality, and you don't have to worry about upgrading on site equipment to get the latest product version or hardware to process things at current standards. Unlike when you deploy physical hardware for products, they become outdated the second they're purchased.
Getting Viz up and running at a new institution is pretty easy, so whether your organization is new to Viz overall, or if you are adding additional locations, the process is a low lift. Viz doesn't require site visits or heavy effort from IT teams. Implementation is fully remote and can be completed as quickly as your organization has bandwidth to move. Piedmont health system rolled Viz out across 11 hospitals in less than 8 weeks.
View the full Piedmont Case Study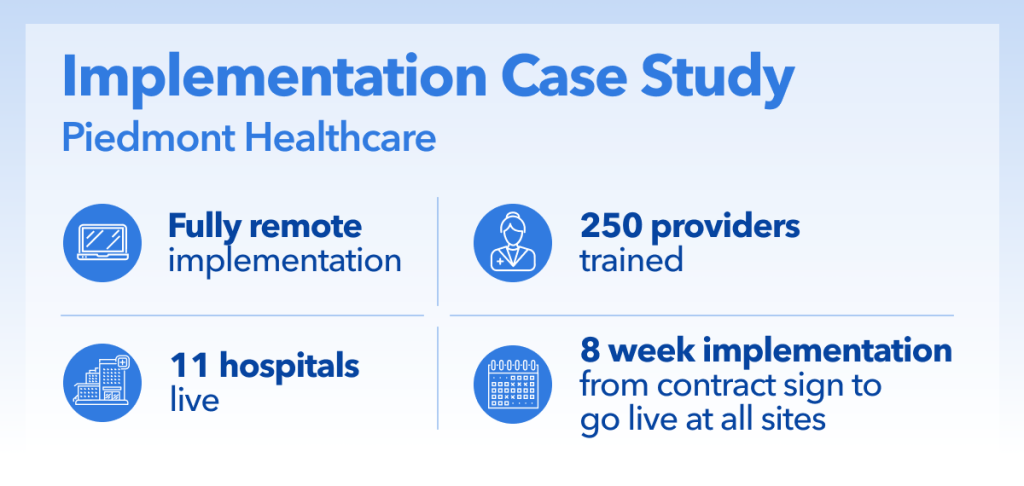 The Viz Cloud is Highly Secure
Viz.ai uses cloud-native industry standards, best practices, and frameworks to protect the system, servers, databases and all data both in transit and at rest. Viz.ai complies with various standards and acts including SOC 2 Type II and has attained many ISO certifications. Viz.ai actively increases the security of the system by using external services to continuously scan its system resilience to outside threats, and by consistently performing system penetration tests, takeover simulations, and vulnerability assessments.
"Viz has received numerous certificates for achieving and exceeding security standards including SOC 2, the most demanding validation guaranteeing best in class cloud compliance."
Andy Draper, PhD, CIO HCA Continental Division
All data in the Viz cloud is encrypted, data points from each customer are stored uniquely to ensure security and speed to access. Any information passing through Viz, whether this is relating to chat messages, images uploaded or otherwise, is secure.
When a user is viewing patient information on a mobile device they are viewing data from the cloud, and not downloading any PHI or PII onto their device. PII and PHI only exist on the device when the application is in use and is cleared as soon as the application goes into hibernation, the login timeout expires, or the application is closed.
Providing minimum necessary privileges is not only a HIPAA standard, but also a best practice that Viz follows. Viz employs a complex permissions hierarchy in which users can view studies from their local hospital, based on the configuration of their assigned role permissions.
‍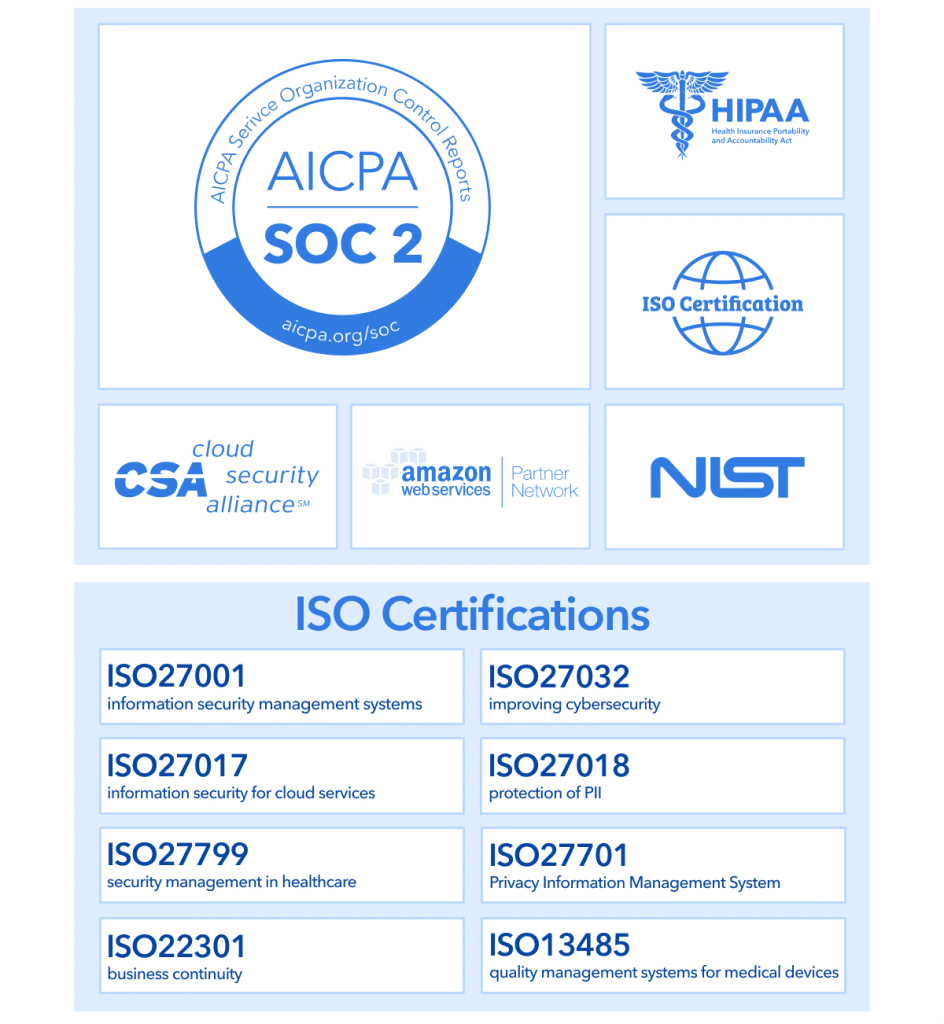 References:
Elijovich L, Dornbos III D, Nickele C, et al. J NeuroIntervent Surg Epub ahead of print. doi:10.1136/ neurintsurg-2021-017714.
Morey A, Fifi J,et al. htpps://doi.org/10.1.101/2020.07.02.20143834, 2020.
Hassan, A, et al. Interventional Neuroradiology, 2020.
Frei D, et al. How Viz Has Improved My Practice. Stroke Webinar 2020.
DRG 23-24, 70% Medicare/30% Commercial – Commercial payor and Medicare contribution margin data based on customer data. Payor mix per industry average for ischemic stroke.
2.5 day reduction in total LOS per Hassan et al. Early Experience Utilizing Artificial Intelligence Shows Significant Reduction in Transfer Times and Length of Stay in a Hub and Spoke Model.  Interventional Neuroradiology. August, 2020.